Gruenberg Generation II Open Truck Bulk Lab Animal Science Sterilizer
The Gruenberg SteriDry™ Dry Heat Lab Animal Science Sterilizer provides the lab animal science market with equipment to sterilize habitat cages through the process of dry-heat sterilization. These sterilizers are designed and built for lab animal science applications.
Read NYU Article about dry heat sterilization
Features and Benefits
Green operation with lower total energy consumption
Economical cost
Flexible installation and customization options
Validated sterilization cycles for assured results
Energy efficient electrical heating system
Easy to use controls
PrecisionFlo Full Focused Airflow
HEPA Filters
Data acquisition capabilities
Panelized design
Sequential door lock system
Interior chamber door lock override system
Hold the Steam
Dry heat sterilization systems use forced-air convection technology for reduced energy consumption.
Pharmaceutical, Medical Device and Life Science Research sterilization has recently seen a demand for greener technologies that require less maintenance. This puts the pressure on equipment engineers to develop innovative ways to approach sterilization. While traditional steam autoclaves use water; dry heat sterilization provides an alternative to steam that uses no water, less energy, and requires less maintenance.

Compared with steam; dry heat is a greener technology that eliminates water usage, provides more flexibility for installation locations, and costs less to own and operate.

Modern dry heat sterilization systems using focused forced air convection technology are consistently decreasing the cycle time. Depending on the load configuration and cool down requirements, the typical cycle lasts less than 3 hours.
The initial cost of available dry heat systems is about 60% of equivalent sized steam autoclaves. A dry heat sterilizer is two to three times lighter than an equivalent steam system. Because the dry heat sterilizer can be rigged in place as modules, there are considerably less rigging challenges and costs. The dry heat sterilizer does not need to be pit mounted.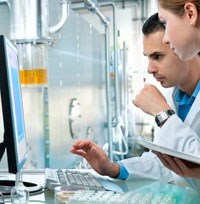 Our SteriDry™ engineers are always here to help
you design and implement our standard or custom
sterilizers to meet your project's specific needs, no
matter how demanding.
Sterilizer Design Possibilities:
Proof of concept and proof of process
Development of test platforms and prototype units
Optimizing production processes
Pharmaceutical process research and testing
Custom process controls to solve manufacturing challenge
Warranty
Gruenberg has defined, developed and refined our techniques based on our many years of experience over a wide range of equipment used throughout the pharmaceutical and biotechnical industries. While our processes always include the customer's specifications and guidelines in their entirety, we also add many value added steps, which include checks and preventive maintenance measures to improve the overall quality and reliability of our equipment. We utilize components from well-known and reputable vendors. All of these factors gives us great pride in offering the best equipment in the business. As a result, we are very happy to announce our new 1-year parts and labor as standard on Gruenberg brand equipment installed within the contiguous 48 states (1 year parts otherwise), commencing on the date of shipment.

We are also very excited to inform you Thermal Product Solutions (TPS) will extend the warranty by an additional year (up to a total of 2 Year Parts and 2 Year Labor Warranty). If Thermal Product Solutions (TPS) performs an installation (turnkey or supervised), or start-up and training service, the warranty period will commence on the date the service is completed.
If on-site warranty work is required for shipments outside the continental US, it will be billed on a time and material basis, plus expenses for travel, lodging, and meals. Outside of the contiguous 48 States, the warranty is limited to a 1 year parts only, unless there is a purchase of a TPS turn-key or supervised installation which will extend the warranty by an additional year (to a 2 Year Parts only).
Specifications
Superior Results. Superior Controller.
USER EXAMPLE:
Advantages of Dry Heat vs. Steam
Dry Heat Sterilizer
New Steam Autoclave
Volume (CU FT)
139
139
Footprint (SQ FT)
34.3
Sterilizer 48.5
Pit 91.2
Utilities
Electric Power
Steam, cold water, drain,
pit, electric, compressed air
Water Usage (GAL)
0
700
Cost Per Cycle (Calculated)
Half of Autoclave
****
Measured Energy Consumption–Dry Heat
| | 300 ° F | Soak: 60 Minutes | SteriDry™ | |
| --- | --- | --- | --- | --- |
| Stage | Time (min) | Power (kW) | Energy (kWH) | Cost ($) |
| Ramp Up | 20 | 61 | 20.3 | $2.64 |
| Soak | 60 | 12 | 11.7 | $1.53 |
| Cool | 100 | 4 | 5.4 | $0.83 |
| Total | 180 | | 37.4 | $4.99 |
Multifunction programmable controller
Color touchscreen
Real-time data with recipe setup and storage
SCADA compliant