Gruenberg Trucks, Transfer Carts and Trays
Loading Trucks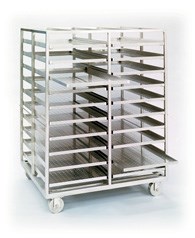 Trucks provide a quick and efficient way to load and unload products. Single, double, triple, and quadruple bay trucks are available to match any product load. To simplify loading and unloading, a front or side loaded truck may be specified.
Construction
Fabricated of fully welded structural steel.
Assure the processing of full loads in the most efficient manner.
Roll on six heavy-duty rigid casters.
Shelves
Three, removable, angle-framed and reinforced expanded metal shelves.
Optional construction customized to handle your heavy loads.
Additional shelves may be ordered by truck model number.
Finish
High temperature black paint is standard on our structural steel trucks
Single-Bay Truck

(side loaded)

Single-bay trucks are used with small and medium sized sterilizers and dryers for maximum product loading. This truck can be used in medium size units if the product is light in weight.

Top View

Front View

Side View




Double-Bay Truck

(front loaded)

Double-bay trucks can be used with small, medium, and large sterilizers or dryers depending upon product load. Shown here is a front loaded truck with a transfer cart.

Top View

Front View

Side View






Top View

Front View

Side View

Triple-Bay Truck

(side loaded)

Triple-bay trucks are used with medium to large sterilizers and dryers. The truck shown here has removable side panels to protect the product from contamination during transportation. Portable laminar flow units are also available to protect the product



Transfer Carts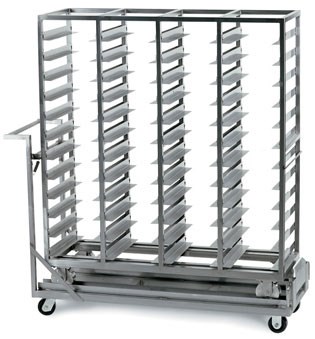 Trucks can be transported to and from sterilizers and dryers by transfer carts. The transfer carts keep the trucks off the floor, reducing the amount of dirt or contamination entering the process chamber. A spring loaded latch and truck guides keep the truck secure during transportation. Power-assisted transfer carts are also available.
Transfer carts are constructed of type 304 stainless steel with a 2B finish. Two swivel and two stationary, non-marking casters are supplied to permit ease of Trucks, Transfer Carts and Trays movement and control. Loading the truck into the sterilizer or dryer is quick, easy, and safe. Simply line up the truck guides of the transfer cart with the truck guides of the process chamber, then lower the loading ramp located on the front of the transfer cart onto two steel pins on the process chamber floor. The transfer cart and process chamber are now locked together. Pull the spring latch on the back of the transfer cart to release the truck. Gently push the truck into the process chamber, raise the loading ramp, and close the door.
Trays
SOLID STAINLESS STEEL TRAYS

Solid trays are constructed of any type stainless steel. All seams are continuously heliarc welded and ground smooth.




PERFORATED STAINLESS STEEL TRAYS

Perforated stainless steel trays typically have 3/8" diameter perforations on 11/2" centers. Larger and smaller sized perforations are available upon request.




COVERED STAINLESS STEEL TRAYS

Covered stainless steel trays are used with both sterilizers and granulation dryers. The covers protect the product from contamination and windage.
Warranty
Gruenberg warrants that from the date it ships or, if applicable, finishes installing a product and/or providing start-up and/or training services, the product Gruenberg manufactured shall conform to written specifications that Gruenberg approved, and the product shall be free from defects in material and workmanship for twelve (12) months. Gruenberg further warrants that any service it performs shall conform to written specifications that Gruenberg approved and be free from defects in workmanship for twelve (12) months. If a purchaser purchases a TPS turn-key or supervised installation, these limited warranties shall each be extended by twelve (12) months, subject to the exclusions below. If, within that time period, the original purchaser notifies Gruenberg in writing of an alleged non-conformity, and Gruenberg determines, to its reasonable satisfaction, that a product or service is, in fact, non-conforming, then Gruenberg shall, at its option and expense, repair or replace the non-conforming product or correct the non-conforming service, either at the original purchaser's or Gruenberg's factory. Click here for additional warranty details
Specifications
Gruenberg Loading Truck Specifications
Model Number
Interior Diameter (in.)

Exterior Dimensions (in.)
Truck Track Spacing (in.)
Shelf Spacing (in.)
Number of Shelves Supplied

Number of Shelf Guides

Weight Capacity (lbs.)

W

D

H

O-W

O-D

O-H

Truck

Expanded Shelf

Bar Shelf

T120

16.5

22

25.5

20

22

36

16

6

3

4







T240

16.5

34

37.5

20

34

48

16

6

3

6







T310
22.5

28

49.5

26

28

60

22

6

3

8

1200

75

150

T360
28.5
34

37.5

32

34

48

28

6

3

6

1200

100

200

T450

28.5

34

49.5

32

34

60

28

6

3

8

1600

100

200

T540

28.5
34

61.5
32

34

72

28

6

3

10

2000

100

200

T720

28.5
45

61.5
32

46

72

28

6

3

10

2500

125

250

T960

40.5

45

61.5
44

46

72

40

6

3

10

3000

150

300



TK144

40.5
68

61.5
44

68

72

40

6

3

10

3500

175

350

TK192

40.5
92

61.5
44

92

72

40

6

3

10

4000

200

400

TK240

40.5
116

61.5
44

116

72

40

6

3

10

5000

250

500

TK204

60.5
68

61.5
64

168

72

60

6

3

10

3500

175

350

TK272
60.5

92
61.5
64
92
72
60
6
3
10
4000
200
400
TK340
60.5
116
61.5
64
116
72
60
6
3
10
5000
250
500
TK384
88.5

92
61.5
92
92
72
88
6
*6
10
8000
200
400
TK480
88.5

116
61.5
92
116
72
88
6
*6
10
10000
250
500
KT96
40.5

44
61.5

44

44
72
40














*HALF SHELVES