« Back to List Page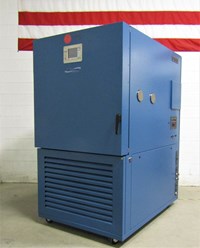 Temperature: -70°C to +200°C
In Stock

Tenney T21RC-3 Temperature & Humidity Chamber - Water Cooled Serial#: 29062
RARE FIND!!!
5°C/minute Temperature- Humidity Chamber. Refurbished Unit Available for Rent or Purchase. Can ship in 2-3 days!
Our line of Tenney Series chambers employ leading edge technology to supply our customers with the most efficient and environmentally friendly test equipment possible. State-of-the art
controllers allow precise, effective monitoring and programming of your unit. An exact blend of
insulations ensure efficient chamber operation and maximize floor space by minimizing equipment footprints. Time-proven mechanical refrigeration, in single or cascade systems, allow years of worry-free use. And, environmentally safe CFC-free refrigerants provide the safety you demand.
Benefits
Structural reinforcement is used at all critical points
Through wall ports are continuously welded
Fully welded liner
Features
Profiling Control System with datalogging
Casters (2 locking)
Numerous options included
Pricing Information
Purchase This Unit For:

$29,500.00

Rent This Unit For:

$1,950.00 / month
Specifications
Temperature Range: -70C to 200C
Average cooling rates of 5°C/minute
Interior Dimensions: WXDXH (inches) 36 X 28 X 36
Exterior Dimensions: WXDXH (inches) 45 X 63 X 80
Voltage: 208/230V 3 phase, 60Hz- 65A Fuse
2" Port/with plug in left side of chamber
2- 4" Ports in light side of chamber
Water Cooled
Refrigeration: Tenney Elite Cascade 3.0 HP
FG# R190613
Special Performance Rating: 50°C to -40°C with 70lb. Mass Load and 125 Watt Live Load in 15 minutes (6°C/ Minute)
Options
Included Options:
Nitrogen (GN2) Purge
Liquid Nitrogen (LN2) Boost Cooling
2kW Boost Heat
2" port in Left Wall
2- 4" ports in Right Wall
Casters
Ethernet Communications
Onboard Controller Datalogging
Available Options:
Stainless Steel Shelves
Certificate of Calibration NIST or ISO17025
Linktenn Software
Humidity Water Treatment Options