« Back to List Page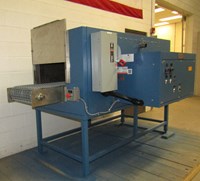 150°C Conveyor Oven - In Stock

Gruenberg Conveyor Oven Serial#: 27469
RARE FIND!-Gruenberg 22" x 11.5" Conveyor Oven
Available for Short Delivery
Features:
Single heating zone and a maximum operating temperature of 150 Deg C.
18" wide belt with 1" x 1" flat wire mesh belt
Variable speed drive with speed range of 2"-24" per minute.
Oven is provided with a 3 phase disconnect.
The Oven is constructed with a cold rolled steel exterior surface and 304 Stainless Steel Interior.



Pricing Information
List Price New:

$ 36,357.00

Purchase This Unit For:

$ 18,200.00
Specifications
Specifications
Internal Dimensions- 18" Wide Belt, 11.5" Height, Heated Section Length- 72"
External Dimensions- 52" Wide, 61.5" High, 108" Long
Belt Height- Adjustable- 36" to 40"
Temperature Range- Up to 150°C
Belt Speed-

2"-24" per minute

Power Requirements- 208-230VAC, 3 Phase, 70A Fuse
Warranty: 90 Days Labor, 12 Months Parts
FG#

R190129
Control System
Watlow EZ Single Setpoint PID Controller
Options
Included Options:
Disconnect
Oven support stand
Adjustable Conveyor Slide Gates
Independent OTP
E-Stop System