« Back to List Page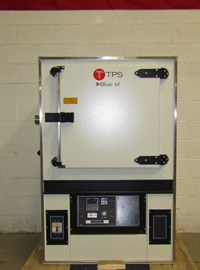 1 In Stock
Can Ship in 3-5 Days

Product Page
Blue M DC-296 Mechanical Convection Oven Serial#: 137170
Cancelled Order. New! Available for Purchase or Rental. Can ship in 3-5 Days!
The Blue M Standard Mechanical Convection Oven is ideal for a number of laboratory and industrial oven applications, including ASTM testing, epoxy curing, moisture drying, UL testing, aging of electronic components and devices, and other processes and testing requirements.
Benefits
Available with profiling or single setpoint temperature controls
Horizontal air flow assures uniform thermal performance under all loading conditions
Exclusive Blue M Eterna heating elements - the most reliable available, with heavy gauge, high temperature nickel chromium where, low-watt density for longer service life, standard air flow switch
Blue M one-pass air flow controls your profile, including cool down with infinitely variable control from full recirculation to full one pass, and optional motorized damper for automatic operation
Direct drive blower multi-blade centrifugal blower with high-volume air delivery, dynamically balanced
Features
Differential air pressure switches alert operators before costly problems with batch runs
Many different workspace sizes to fit virtually any requirement
Quick access for simple inner chamber cleaning
Easy to use controller for repeatable results and less training requirements
Reinforced Type 304 stainless steel interior resists corrosion and makes cleaning easy
4 inches of fiberglass insulation saves energy and provide cool to the touch exterior
Adjustable air intake and exhaust dampers for flexible testing conditions
Infinitely variable control from full recirculation to full one pass to accommodate any processing need
Profiling or single setpoint temperature controls offer flexible recipe options
Standard air flow switch
Pricing Information
List Price New:

$9,257.00

Purchase This Unit For:

$9,257.00

Rent This Unit For:

$1150.00 / month
Specifications
Door Style: Standard Single Door
Door Hinge: Right Hand
Warranty: 2 Year Labor and 2 Year Parts
Over Temperature Protection is included as standard on this model
Temperature Range: 15°C above ambient to 350°C
Interior Dimensions W x D x H (inches): 25 x 25 x 25
Exterior Dimensions W x D x H (inches): 45 x 40 x 63
Crating Dimensions W x D x H (inches): 51 x 42 x 72
Cabinet Type: Floor Standard Single Door
Electrical Power: 208/230V 3 Phase 60 Hz
Amp Draw: 46A, Fuse: 60A
Heater: 18.0 kW
Weight: 850.0 lbs.
Options
Included
Overtemperature Protection
Optional
Programmable Controller with Datalogging
Additional Shelves
Door Switch
Light Tower
Chart Recorder