« Back to List Page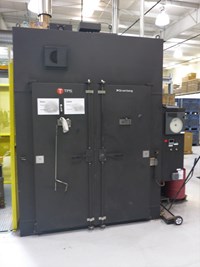 1 In Stock

Gruenberg 1200°F Truck Oven- T120H150.0-G Serial#: 115693
1200°F Truck Oven, Immediate Availability
Consigned from Owner in NC.
Benefits
The Gruenberg Truck-In Oven accommodates a variety of thermal processing applications up to 1200°F
Ideal for powder coating, drum heating, aging, core hardening, drying, preheating, curing, and component testing
Additional options extend the range of applications
Top quality CHIL construction is energy-efficient and minimizes equipment effort
Heating elements designed to prevent radiant influence on the work in process
Features
Heavy-duty, fully-welded structural steel frame
Fully welded liner
Removable side and back walls
Moisture-proof, non-combustible, non-settling, and asbestos-free insulation
Energy-efficient, Incoloy sheathed, seamless tubular heaters
Horizontal airflow
3000lb rated floor
Pricing Information
List Price New:

$ 108,602.00

Purchase This Unit For:

$ 45,000.00
Specifications
Specifications:
Interior Dimensions:

60"W x 60"D x 72"H

Exterior Dimensions:

106"W x 83"D x 115"H

Fully Welded 304L Stainless Steel Liner

Power- 460/480VAC, 3 phase, 250A Fuse
Insulated Floor built to stand 3000lb loading.
Recirculation Airflow- 7,500SCFM
Exhaust Capability- 300SCFM

Temperature range: to 650°C(1200°F)

Ships from Owners Facility in NC. (Buyer responsible for Shipping- owner will assist with load-out.
Oven currently connected to utilities. Prospective buyer can see unit operate.
Options
Included Options:
Door Switch
Chart Recorder-Honeywell DR 4300
Powered Exhaust Blower
Bearing Cooling Blowers
Shaft Rotation Sensors
Fused Disconnect
Ethernet Capable Controller
Available Options: