« Back to List Page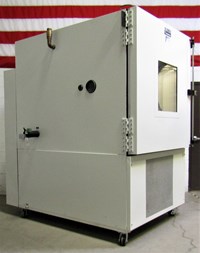 1 In Stock
Can Ship in 3-5 Days

Tenney "Classic" T64RC Temperature & Humidity Chamber Serial#: 50524
Rare Find! 64 cubic foot Temperature & Humidity Chamber. Includes Manufacturer's Warranty.
Benefits
Robust design delivers consistent, reliable, repeatable results that lead to higher productivity
Constructed for long life and thermal integrity
Smaller footprint saves lab space
Features
Touch Screen Control System
5HP Cascade- Air cooled refrigeration
Platinum RTD temperature sensor
Heavy-duty casters
Nichrome wire air heaters
Solid-state pressure switches
Backup safety thermal cutoff
Chamber ports
Pricing Information
List Price New:

$46,064.00

Purchase This Unit For:

$33,500.00

Rent This Unit For:

$3,200.00 / Month
Specifications
Temperature Range: -73°C to 200°C
Interior Dimensions W x D x H (inches): 48 x 48 x 48
Exterior Dimensions W x D x H (inches): 72 x 81.5 x 91
Crating Dimensions W x D x H (inches): 82 x 92 x 101
Electrical Power: 460V/480V 3 Phase 60 Hz
Amp Draw: 36
Fuse: 50
Warranty: 90 Days Labor, One Year Parts

Options
Included:
Boost Heat (Additional 2000 watts of heating capacity)
LN2 Cooling Boost
Window & Interior Chamber Light
Deionizer Water Cartridge System
OverTemperature Protection
(1) 5" & (1) 2" access ports located on the left side of unit
Water Regulator
TempGard
Quiet Pak - insulated rear door style enclosure is mounted directly to the rear of the chamber, directing the muffled noise and heat upwards from the top of the chamber. This option minimizes machinery noise when the chamber is in operation.