« Back to List Page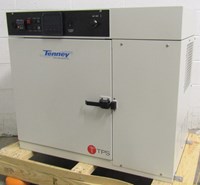 Temperature Range -68C to 180C
Ships in 2-3 Days!

Product Page
Tenney TJR Temperature Test Chamber Serial#: 138016
Discounted Tenney Junior. Short Term Rental.
Includes: TempGard, Data Logging & Chart Trending
Available for Rent or Purchase. Can ship in 2-3 Days!
The Tenney Junior temperature test chambers have been in the market for over 50 years. They are well suited for use in electronic, military, and pharmaceutical quality assurance and reliability testing, along with research testing and production processes. In keeping with the needs of today's lab, we specifically designed these bench top and floor chambers to have a compact exterior yet an ample interior work space to maximize valuable floor space.
Benefits
Space saving bench design
Compact exterior with ample interior work space to maximize valuable floor space
Wide range of temperature conditioning with a set of diverse optional conditioning equipment
Features
Vapor tight interior made with 100% stainless steel
Control tolerance of +/-0.3°C
Low-mass nichrome, open wire heating system
Vertical-down recirculating system
Ethernet Interface
Pricing Information
List Price New:

$8,515.00

Purchase This Unit For:

$7,400.00

Rent This Unit For:

$600.00 / month
Specifications
Temperature Range: -68°C to 180°C
Internal Dimensions: WxDxH (inches) 16 x 11 x 11.75
External Dimensions: WXDXH (inches) 37x22.5x30.7
Crated Dimensions: WxDXH (inches) 47x33x41
Weight: 350#
Electrical Power: 115V-120V 1 phase, 60Hz
Power requirements: 120VAC, 20A, Kw 0.5
FG#

R739415
Options
Included:
Computer interface- Ethernet
Over Temperature Protection (TempGard)
Data & Chart Trending capabilities
Available:
Shelves
Cooling boost - CO2/LN2
Boost Heat
Recorder
Computer interface- RS232
Cart
NIST Certificate of Calibration
A2LA Calibration