Preventive Maintenance, Calibration, and TLC Programs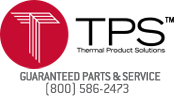 Your equipment can only be of value to you if it is operating properly. TPS offers Preventive Maintenance programs to assure that your equipment will be ready when you need it. Our Preventive Maintenance programs are not just limited to equipment manufactured by TPS. In fact, this valuable program is available for most makes and models of environmental test chambers and heat processing equipment. The programs are designed to fit your needs and can be offered to include NIST Calibration Certificates.
The TLC Program (Tune, Lubricate and Calibrate)
1. What is the TLC program?
TLC stands for: Tune, Lubricate, and Calibrate
The TLC program is an annual preventive maintenance service for all Tenney, Lunaire and other makes of environmental, stability and cycling chambers.
2. What is the TLC program not?
TLC is not a program where you pay for services you may never need.
Not just a maintenance program - TLC does not cover equipment failures. However if you choose to have us perform the repair, you will receive discounts over factory list pricing for parts and labor. And of course, you get factory employees to perform the work.
3. Why do we need the TLC program?
To ensure that you have the tools at your disposal to run your business, with the confidence that:

Your equipment is safe.
You won't lose samples or production when a piece of equipment goes down.
Your equipment is operating as designed at full performance and efficiency.
Your organization's accreditation is never compromised.
4. What specifically does the TLC program provide?
Scheduled calibration, routine maintenance, cleaning and lubrication of all covered equipment. Regular inspection reports on each piece of equipment with specific details of any signs of wear or imminent failure.
5. Sounds great, but what does it cost?
Your annual fee for the TLC program will depend on the frequency of maintenance visits and the quantity of equipment covered. Some of our clients pay as little as 74 cents per piece of equipment per day. While taking part in the TLC program you can enter into the Max Program or not. The Max Program can provide 10% of Labor & Parts with no mileage travel charges and free ground shipping. For a quotations, use the contact info, below.
6. What kind of equipment can be covered by the TLC program?
The TLC program can cover any Blue M, Gruenberg, Tenney or Lunaire equipment as well as virtually any stability, environmental, or cycling chambers.
7. Some of our equipment is new and still under warranty. Why would we want a TLC program?
The TLC program offers many services that the warranty doesn't. The warranty covers only defective components after they have failed. It doesn't include preventive maintenance measures that could avoid the down time altogether.
8. Are there any guarantees?
Yes! We are so sure that you will be completely satisfied with the TLC program that if you sign up, and after your first visit are not completely satisfied, you can cancel the contract and pay for only the portion of the service used.
9. We're interested, so what do we do next?
Simply contact TPS and give a description of what equipment you would like to have covered. Include the brand, model and serial numbers of the equipment that you would like to have covered, and the frequency of service that you prefer. TPS will contact you in a couple of days with a quotation for the coverage and further description of the services we provide.
Contact our Customer Support group for a quote on a Preventive Maintenance or TLC program for your equipment today.
Phone: (570) 538-7200
Fax: (570) 538-7391
For preventive maintenance specific to Tenney/Lunaire equipment, email

[email protected]



For preventive maintenance specific to Blue M equipment, email

[email protected]



For preventive maintenance specific to Gruenberg equipment, email

[email protected]