Think : Thermal : Sterilize Using Green Technologies
Green Technology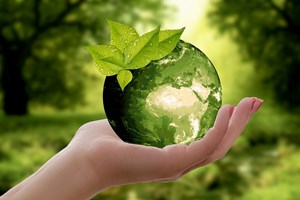 Sterilize Using Green Technologies
Problem
Industry has recently seen a demand for greener technologies that require less energy, less water, and less maintenance. This puts the pressure on equipment engineers to develop innovative ways to approach sterilization.
Solution
While traditional steam autoclaves use water, dry heat sterilization provides an alternative to steam that uses no water, less energy and requires less maintenance. The Gen II SteriDry system is programmable up to 400F and features two ventilated cage racks or two standard 3 sided facility load carts and 504 nested cages or four purpose built load carts and 680 nested cages.
Green Technology
Compared with steam, dry heat is a greener technology that eliminates water usage, provides more flexibility for installation locations, and costs less to own and operate. Dry heat sterilization systems using focused forced air convection technology, PrecisionFloTM, are consistently decreasing the cycle time and cool down requirements.
Installation Advantage
Bulk sterilizers are large units which often need to be located in areas that are prohibitive to moving such heavy, cumbersome equipment into position. A dry heat sterilizer is two to three times lighter than an equivalent steam system, takes less floor space and by design can be moved through a facility and rigged into place as modules/panels assembled at site; presenting considerably less challenges, costs and time delays.
The dry heat sterilizer does not need to be pit mounted. Instead, a steel plate floor in the sterilizer allows the load of animal cages to be rolled in directly from the facility floor.
The dry heat sterilizer requires no drain, steam, or cooling of reject water as there is none.
Operational Advantages
•
Provides a sterilized cage for usage with dry bedding
•
Non pressurized system provides for safer operation
•
Less impact on the work environment
•
Low thermal impact to surrounding room
•
Low noise levels
Utility Costs
The dry heat sterilizer uses just one utility, electricity. In comparison to other sterilization methods the cycle operational cost is considerably less.
Controls
New sterilizers provide control options using a programmable logic controller (PLC), and human machine interface (HMI) based control systems. These controls are simple to use and allow the technician to configure and record the temperature of the sterilization cycle. Technicians can control various processes, such as start/stop, fault indicators, temperature displays, timers, and alarms in a secure manner preventing accidental changes to stored sterilization programs. Strip Chart recorder is included. A slave HMI is also located at the unload side of the sterilizer to allow visibility to the cycle timing and performance.
Proven Validation
The dry heat sterilizers are validated in the following manner:
1.
Balancing of airflow.
2.
Thermally map an empty chamber and tune pressure ducts to achieve the correct chamber
temperature uniformity.
3.
Load the chamber with rodent cages and bedding.
4.
Thermally map the cages to determine the slowest point to reach temperature.
5.
Place the Biological Indicator's in selected cages and operate the sterilizer cycle.
6.
Incubate the BI's for any signs of growth.
For more information, go to www.gruenberg.com.