Control Your World
TPS Thermal Product Solutions offers the most advanced controls for our ovens and chambers.
Repeatability
Recipe management
Networked, web-ready monitoring
Ease of use and training
Secure access
Validation
We also offer complete custom programming and design of controller software for your specific needs. Our team of engineers knows the thermal processing requirements of today's demanding applications. We invite you to challenge us in helping you control your world.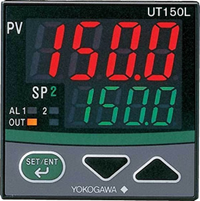 Yokogawa UT150L High Limit Controller Overtemperature Protection
1/16 DIN high limit controller
Type J thermocouple
LCD display
Shuts down heat-control system and blower when high-heat limit is detected and activates alarm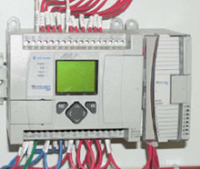 Allen-Bradley MicroLogix PLC
10 Digital inputs
6 Digital outputs
2 Analog inputs
Ability to add digital, analog, RTD, and thermocouple modules to customize the controller for your application.
Supports expansion I/O -- up to four 1762 I/O modules
High speed I/O: 20 kHz HSC, 20 kHz

PTO/PWM output
4KB user-program memory
4KB-word, user-data memory
Up to 128KB for data logging and 64KB for recipes
Built-in 10/100 Mbps EtherNet / IP Port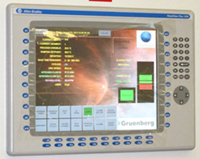 Allen-Bradley Compact Logix PanelView 700 Plus
Modular-type PLC
Analog and digital input/output modules
Up to 30 I/O modules may be utilized
VersaView CE 700H
Powerful OIT
TFT color touch screen
Up to 10 recipe profiles
System auto tune
Maintenance and security-function access
Generates process and alarm-logging data
RS232 data communications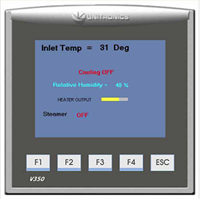 Unilogics
8 Digital Inputs, 2 analog (current/voltage) and 1 HSC/Shaft-encoder Input
4 Analog Inputs (current)
6 Relay Outputs
2 high-speed npn (2 PTO)
Graphic White LED Display
1 built-in RS232/RS485 Port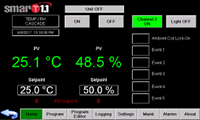 Smart 1.1 Controller 7 Inch Screen
The main features of the 7" Windows based PLC Smart 1.1™ are the high resolution graphical touch screen, Smart 1.1™ graphical user interface, 800MHz Cortex A9 central processing unit with graphic processor, 4GB (SD Card) flash storage, capable of storing up to 100 profiles with 100 steps each. Test data retrieval and profile data transfer/sharing is accomplished through a local FTP server via Ethernet connection. Individual PID control loops allow for precise process control.
A 100-ohm platinum RTD is used for temperature measurement and a dry capacitance type sensor is used for humidity measurement (when applicable). Customer use event outputs events can be purchased as an option.
Other features included with Smart 1.1™:
Real-time and historical color graph displays for temperature and humidity as well as set point values
System can run in Single set point or Programmed modes
Alarm, Program, and Datalog files can be easily transferred to and from controller via Ethernet connection
Built-in TCP/IP networking via Ethernet 10/100 communication port
Ethernet communications are standard. RS485, RS232 and IEE GPIB are all available as options
Optional Analog signal re-transmit out to peripheral devices such as optional chart recorders, etc.
Remote access via Smartphone, iPad, etc. with internet connection and VNC phone App's
Dynamic expandable zoom
850:1 Contrast Ration
Windows CE 7.0 Operating System
16 million display colors
Projective Capacitive Touch Screen
TFT LCD Anti-Glare Display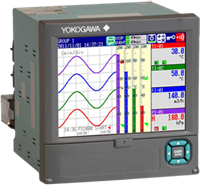 Yokogawa Value Series FX1000
Intuitive display, easy operation
5.7-inch, high-precision, wide-viewing-angle color TFT LCD
Many types of displays such as trend, digital, bar graph, overview, alarm, and historical trend
Remote viewing of the FX1000 screen through the Internet
Multi-functional panel keys start/stop recording by batch, and create data files
Comprehensive selection of measurement types, and exceptional performance
Input types: DCV, TC, RTD, DI
Scan interval: 1 s, 125 ms (fast sampling)
Channels: 2, 4, 6, 8, 10, 12
Measurement accuracy: ±0.05% of reading (DCV), ±0.15% of reading (TC, RTD)
Reliable data storage
Large (400 MB) internal memory
CF cards up to 2 GB (option)
USB interface (option)
Binary data storage
Network enables data redundancy
Support for a variety of applications
Power measurement recording (option)
Vacuum pressure recording (Log scale, option)
Flow rate summation (option)
F value calculation (option)
Reliable design and construction
Space-saving design
Waterproof and dustproof (IP65 compliant)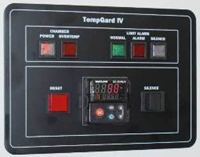 Tempguard IV Overtemperature Protection
protects against product over/under temperature
microprocessor based controller that incorporates programmable high and low temperature limits
100 ohm Platinum RTD used for temperature measurement
easy to use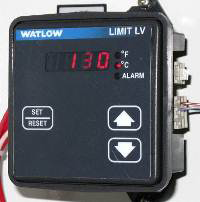 Watlow LV Controller
Protects against product over/under temperature
microprocessor based controller that incorporates programmable high and low temperature limits
100 ohm Platinum RTD used for temperature measurement
easy to use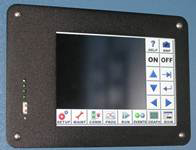 VersaTenn V Temperature HMI Controller
Two channel controller
Auto/ manual control
Pentium class processor
8 MB flash disk on chip storage
USB flash disk port
RS-232 communications
Color LCD touch screen interface with real-time graphic displays
Microsoft Windows CE Operating System
Logic circuits automatically select cooling and heating modes
Near infinite number of programs and steps possible
RTD sensors for temperature measurement
2 process inputs, 10 temperature control outputs, 6 event outputs
Alarm output for each channel
RS232 data communications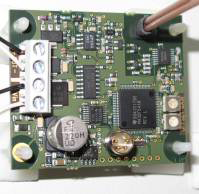 Vaisala HMM100 Humidity Sensor / Module (Alternate)
Dry capacitance type sensor
Measures 3.3" long, 0.5" diameter
Temperature compensation included using PT1000 sensor
Open board type in mounted control cabinet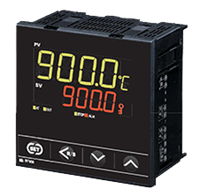 RKC RF100 Temperature Controller
Easy to read 11 segment LCD digital display
Enhanced PID control
Single Setpoint
Autotuning algorithm to calculate optimum setpoints and ramps
Helps eliminate over and under shoot of temperature
Overtemperature protection standard using CB100L or CB900L FM-approved controller with independent sensor and power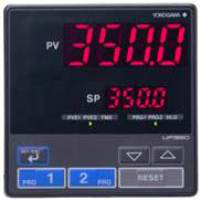 Yokogawa UT350 Non-profiling single setpoint type
1/4 DIN
Single channel
Automatic control only
Auto-Tuning, "SUPER" overshoot-suppress function, and new "SUPER 2" hunting-suppress function
1 universal process input
1 heat control output
Up to 2 contact inputs and 3 contact outputs for alarms/events
Support for light loader
Communications: RS-485, Modbus®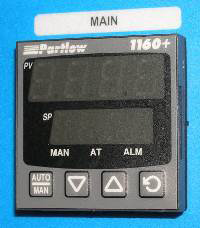 Partlow 1160+ Temperature Controller
Type J thermocouple for temperature measurement
Single channel, non-profiling type
Selectable pre-tune, self-tune, manual tune
1 universal type input and time proportioned control for heating
2 alarm outputs
Communications: Optional for RS-495 w/ Modbus
LED display for process and setpoint values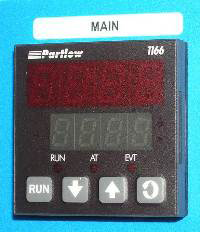 Alternate Temperature Controller - Partlow 1166
Single channel, profiling type
Capacity of 4 programs with up to 16 steps in each
Programmable event output
Type J Thermocouple for temperature measurement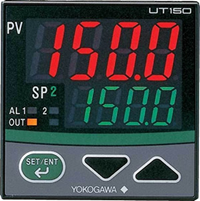 Yokogawa UT150 Temperature Controller
1/16 DIN controller
Single setpoint
LCD display
Digital input and outputs
Type J thermocouple
Shuts down heat control system and blower when high heat limit is detected and activates alarm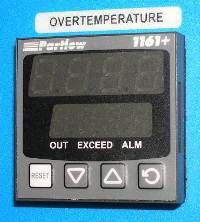 Alternate Overtemperature Protection--Partlow 1161+ High Limit Controller
Shuts down heat control system and blower motor when high heat is detected
1/16 DIN, non-profiling type
Type J thermocouple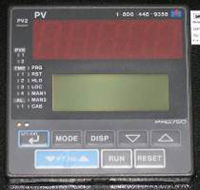 Yokogawa UP750 Controller
Dual or single channel
Profiling: 40 profiles, 256 steps
Automatic & manual control
2 Analog inputs, universal-type (RTD is standard)
4 Digital inputs
2 Auxiliary analog inputs -- optional
2 Control outputs: time proportioned, on/off or 4-20 mA
2 Alarm outputs
8 Digital event outputs
2 Retransmit outputs -- optional
Communications: EIA-232 and EIA-485 with Modbus RTU protocol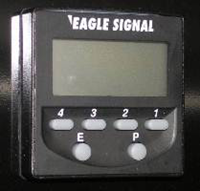 Eagle Signal Model B856 Digital Process Timer
Programmable 1/16 DIN timer
5 selectable standard timing operations and 5 selectable time ranges
Audible alarm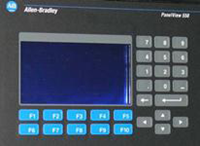 Allen-Bradley SLC 5/05
Programmable Logic ControllerModular type PLC
Digital input/ output modules
Stores up to ten recipes with up to five segments per recipe
DH+ and RS232 data communications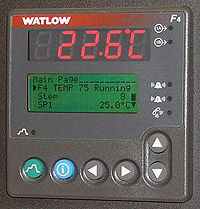 Watlow F4 Temperature Controller
Dual channel
Profiling: 40 profiles, 256 steps
Automatic & manual control
2 Analog inputs, universal-type (RTD is standard)
4 Digital inputs
2 Auxiliary analog inputs -- optional
2 Control outputs: time proportioned, on/off or 4-20 mA
2 Alarm outputs
8 Digital event outputs
2 Retransmit outputs -- optional
Communications: EIA-232 and EIA-485 with Modbus RTU protocol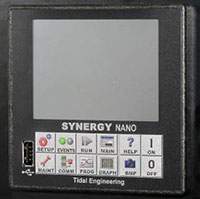 VersaTenn V / Synergy Touch Interface Control System - Nano Version
¼ DIN profiling controller
Pentium class processor, 1GB On-Board Flash, and 64MB SDRAM
Color touchscreen interface
Window's CE OS
RS-232 serial data communications
USB flash drive port
Connected Factory
Type J thermocouple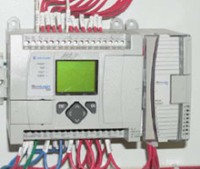 Allen-Bradley MicroLogix 1200 PLC
10 Digital inputs
6 Digital outputs
2 Analog inputs
Ability to add digital, analog, RTD, and thermocouple modules to customize the controller for your application
Supports expansion I/O -- up to four 1762 I/O modules
High speed I/O: 20 kHz HSC, 20 kHz

PTO/PWM output
4KB user-program memory
4KB-word, user-data memory
Up to 128KB for data logging and 64KB for recipes
Built-in 10/100 Mbps EtherNet / IP Port

Watlow EZ Zone PM (PID)
Single-channel, ¼ DIN, non-profiling-type controller
Type J thermocouple for temperature measurement
Fully programmable menu system
Auto-Tune is provided for fast, efficient start ups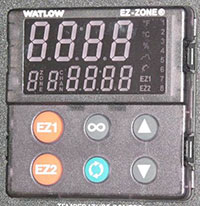 Watlow EZ Zone PMIL (Integrated) Controller
Single / dual channel, 1/4 DIN profiling controller
4 profiles, 40 steps, and fully programmable
Type J thermocouple
Data communications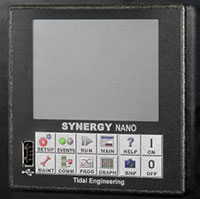 VersaTenn V / Synergy Nano Temperature HMI Controller
VersaTenn V / Synergy Touch Interface Control System - Nano Version
1/4 DIN profiling controller
Pentium-class processor, 1GB On-Board Flash, and 64MB SDRAM
Color touch-screen interface
Windows CE OS
RS-232 serial data communications
USB flash-drive port
Connected factory
Type J thermocouple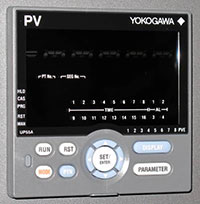 Yokogawa UP55A Controller
Profiling-type, 1/4 DIN, single-channel controller
30 profiles with up to 300 linkable segments
Eight digital inputs and outputs
LCD display
Type J thermocouple
Ladder-sequencing function
Optional LL50A Parameter Setting Software
Optional data communications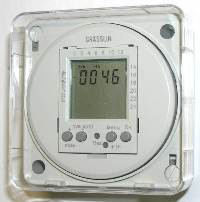 24 Hour / 7 Day Digital Timer - Grasslin FM1D
Start-and-stop, 24-hour / 7-day oven operation
20 programmable cycles
Manual, 3-way override