Think : Thermal : Manufacturing: Backbone of America
Posted on July 27, 2016 in Blog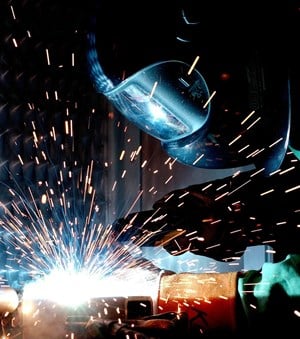 When we think of America in July, we think of fireworks, picnics and movies in the park. Something else that should be added to that list as we celebrate America's rich history is manufacturing. The United States was built on manufacturing and it has continued to play a large role in the economy. From adding $2.1 trillion in GDP to the economy in 2013 to the incredible number of jobs it contributes to the workforce, the manufacturing industry is a huge factor when it comes to America's prosperity.
Just a few decades ago, high school graduates could easily become part of the middle class, buy a home, and make a comfortable living by joining the manufacturing workforce. Today, this sector supports an estimated 17.6 million jobs in the United States—about 1 in 6 private-sector jobs. According to Education and Career News, manufacturers in the United States are driving innovation and are responsible for more than three-quarters of all private-sector research and development.
Manufacturing in the U.S. has become even more competitive than it was just a few years ago. Fortune.com states that cheap labor is no longer the most important factor when it comes to manufacturing. Companies are more focused on engineering eco-friendly, innovative products, in turn is creating more jobs here in America. The National Association of Manufacturers' (NAM) Manufacturing Institute suggests that for every $1.00 spent in manufacturing, another $1.40 is added to the economy which is the highest multiplier effect of any economic sector. This growth can be predicted to continue in the years to come and lead to America surpassing the number one manufacturing country, China.
However, also according to NAM over the next decade, manufacturers will have up to 3.5 million job openings, but 2 million of these jobs will most likely go unfilled. There are many reasons this might happen including, retirement of the Baby Boomers, the stereotype of factory jobs, and the lack of job applicants that will have the skills required to operate new manufacturing equipment.
Many people are beginning to notice how the economy will be effected if something doesn't change. A great government initiative that is helping young adults view factories in a different way is Manufacturing Day. The focus of this day is to educate people that manufacturing is no longer workers performing outdated line jobs but rather workers striving every day to develop new and innovative ways to produce goods.
Another big push is the importance of Science, Technology, Engineering, and Mathematics (STEM) education. The mission of this program is to educate and inform the public and lawmakers on the importance of STEM on future economic prosperity. This knowledge will encourage younger generations to take a second look at manufacturing and understand its importance.
Manufacturing has contributed significantly to the growth of America. With over 12 million dedicated, hardworking, and talented men and women in the industry, it has definitely continued to be the backbone of America. The renewed focus on the industry will only continue the advancement of the manufacturing sector for generations to come.
Here at Thermal Product Solutions (TPS) LLC., we work hard to continue this growth by providing internships and partnering with many local colleges to show the impact that manufacturing can have. Contact TPS today for more information on how you can make an impact or view our current job openings on our careers page.