Think : Thermal : Visit Us at the 2016 Automotive Testing Expo!
Posted on October 17, 2016 in Blog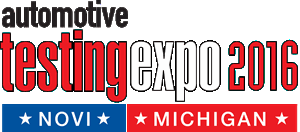 The Automotive Testing Expo, now in its thirteenth year, will take place October 25th - 27th, 2016 at the Suburban Collection Showplace in Novi, Michigan. At its core, the Automotive Testing Expo is designed to bring together leaders from all across the industry who, in conjunction with the latest technologies and services, aim to eliminate product recalls. Over 200 exhibiting companies will be present, unveiling the latest testing products used to manufacture safer and more efficient automobiles.
Each year, the show is responsible for bringing together some of the greatest minds in the automotive industry to help guarantee that only the highest standards are met in terms of the quality, reliability, and the ultimate safety of the products that are being released to consumers. Just a few of the incredible product categories that will be present include but are not limited to:
• Aerodynamic and wind tunnel testing
• Acoustic testing
• Dynamometers
• Occupant/pedestrian safety
• Engine/emissions testing
• Vehicle dynamics testing
• Vibration and shock testing and so much more
Tenney at the Automotive Testing Expo USA
Tenney, a division of Thermal Product Solutions, is pleased to be among the many suppliers exhibiting at the 2016 Automotive Testing Expo. As a leading supplier of environmental test chambers for many industries, Tenney chambers are a staple in the automotive testing arena. Many people don't realize that it takes not hundreds but thousands of different components to keep a car running at its very best. Everything from gears, to levers to latches need to be designed in such a way as to guarantee quality performance for miles, which is where our state-of-the-art testing comes into play.
Tenney manufactures a wide range of temperature, temperature/humidity, thermal shock, walk-in and drive-in chambers that are used to test the components within you vehicle and ensure that they hold up to the most ruthless conditions. At this year's show in addition to showcasing our Tenney Junior and C-EVO test chambers, we will also have equipment from our sister brands including a Blue M benchtop oven and a Lunaire steady state testing chamber. Make sure to stop by our booth #2024 at this year's event to learn more about our testing solutions.