Tenney TC Series Cycling Test Chambers
The TC Series of environmental cycling reach-in test chambers include both temperature-only chambers and temperature / humidity chambers. The Tenney TC Series Cycling Test Chambers offer design features for optimal performance such as a high volume horizontal-down air circulation system with an electric heating system and a mechanical refrigeration system. If the humidity option is selected, a vapor injection type humidification system is used to condition the product. A wide range of options can be added to enhance the equipment. Since 1932, Tenney engineering continues to incorporate the latest technologies in heating, cooling, and humidification to meet the most stringent demands in the industry.
Equipment:
Temperature Only
Temperature & Humidity
Single and Cascade Refrigeration Systems
Benefits:
Robust design delivers consistent, reliable, repeatable results that lead to higher productivity
Constructed for long life and thermal integrity
Features:
Watlow F4T controller
Air cooled refrigeration
Solid state humidity sensor when humidity option is purchased
Platinum RTD temperature sensor
Heavy-duty leveling casters
Nichrome wire air heater
Solid-state pressure switches
Backup safety thermal cutoff
Chamber vent port
TEMPERATURE AND HUMIDITY CAPABILITIES
Options:
Smart 1.1™ controller with 7" screen
Water cooled refrigeration
FM approved safety OTP
Heated viewing glass
Chamber light
Main electrical disconnect
UL 508A compliant
Test Chamber Quality
TPS Thermal Product Solutions is a pioneer in the design and manufacturing of environmental test equipment. The Tenney Brand has been an industry leader since 1932. Our decades of experience, processes and procedures ensure quality and reliability of every test chamber or walk-in room we manufacture. Rest assured that you are purchasing a world-class piece of equipment built to perform and last.
Service
We back our environmental test chambers with a comprehensive service organization. Factory trained, courteous and knowledgeable technicians provide on-site installation, maintenance and repair for your test chamber or room. In-house service technicians and a parts & service department stand ready to assist you. Contact our service department to inquire on preventive maintenance programs, extended warranties, calibrations services and more. For a full list of chamber services click here.
Specifications
Tenney TC Series Temperature / Humidity Cycling Test Chamber Specifications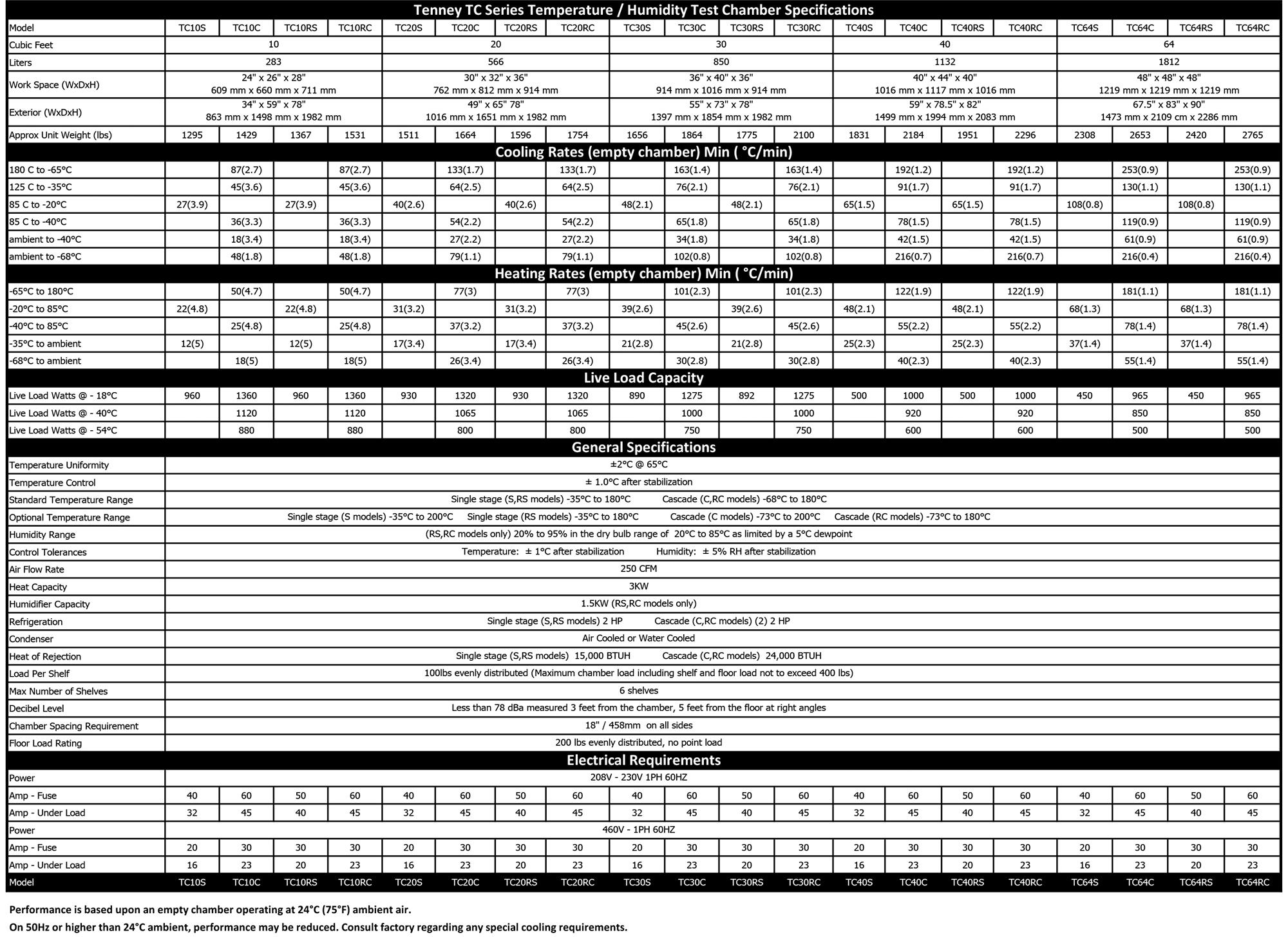 All specifications are subject to change without notice.