Think : Thermal : Reduce Downtime, Increase Profit and Customer Satisfaction by Stocking Replacement Parts for Your Industrial Oven
Posted on April 11, 2019 in TPS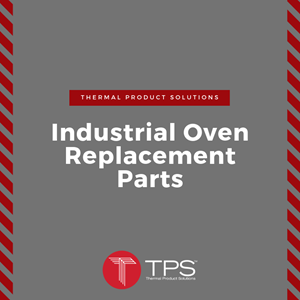 Downtime. That dreaded word that means you are temporarily out of business. Most manufacturing companies have experienced unplanned downtime within the last three years. In addition to affecting your bottom line, downtime will negatively impact productivity, not to mention its ability to create upset customers in the process.
The leading cause of unplanned down time is equipment failure. Every minute of stopped production is lost money; even overnight replacement part delivery may not be fast enough to stop profit loss. When it comes to industrial ovens, having replacement parts on hand can significantly reduce your downtime and minimize the damage to your business. Maintaining an adequate supply of replacement parts for your industrial oven is an investment in your future business. The solution is not just about having replacement parts on hand though. Making sure that you have the correct replacement parts is what will really pay dividends.
Thermal Product Solutions (TPS) supplies the replacement parts needed for most makes and models of industrial ovens. Common replacement parts to keep on hand for your industrial oven will include items such as door gaskets, actuator motors, thermocouples, relays, sensors and other critical electrical components. Our trained customer service representatives will provide recommendations on the replacement parts that you should stock for your equipment. TPS Customers are also invited to participate in our exclusive MAX Aftermarket program, which allows customers to purchase future service and parts at discounted rates and includes free ground shipping on parts orders.
The TPS Aftermarket Service department features fully trained service technicians located around the country who are knowledgeable in maintenance and repair of most makes and models of industrial ovens. A TPS technician will work with you on suggested replacement parts lists and preventative maintenance schedules to minimize the risk of unexpected downtime. Our goal is to be there for our customers throughout the lifespan of their equipment. This includes technical support, oven or chamber repair, preventative maintenance, replacement parts, thermal uniformity testing, and short-term rental equipment. No matter your needs, TPS has you covered!
For more information on replacement parts or any of the other aftermarket services offered by TPS visit our website www.thermalproductsolutions.com, or contact us at [email protected]. Stay connected with what's going on by following us on Facebook and LinkedIn. Make sure to check back each month for a new blog post.