Think : Thermal : Refurbished Test Chambers and Ovens Provide Cost Effective Alternatives to New Equipment
Posted on March 15, 2019 in TPS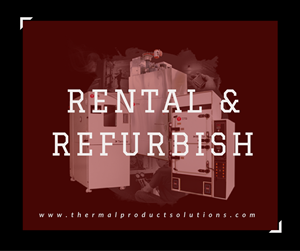 Thermal Product Solutions (TPS) has been in the equipment refurbishing industry since 2004. We have shipped more than 1,000 of our refurbished industrial ovens and test chambers to countless satisfied customers across the globe. TPS is the original equipment manufacturer (OEM) for Baker Furnace, Blue M, Gruenberg, Lindberg/MPH, Lunaire, Tenney, and Wisconsin Oven. Since our skilled craftspeople manufactured these lines of equipment, they are the most qualified to refurbish them. These refurbished test chambers and ovens are available for sale or as rental units.
Thermal Product Solutions performs industrial oven and climatic test chamber modification and refurbishing services. Their team is equipped for most rebuild, retrofit, or modification work. Customers can send their equipment to the Pennsylvania facility for a complete evaluation. Once their test chamber or industrial oven has been evaluated, a TPS representative will provide a quote for services that covers basic upgrades to complete refurbishment.
Our skilled craftspeople, each with years of experience building and repairing TPS equipment, perform all equipment updates. TPS puts each refurbished chamber or oven through a rigorous process to ensure excellence, and we proudly back the quality of our refurbished equipment with an unprecedented one-year on-site warranty covering both parts and labor.
What about after the refurbished equipment is installed?
TPS offers preventative maintenance programs to counter the wear and tear that leads to equipment failure and downtime. Our factory trained technicians customize preventative maintenance programs that feature systematic inspection, adjustment, lubrication and replacement of industrial oven and test chamber parts, along with performance testing and analysis of the equipment.
TPS also offers on-site uniformity testing and certifications. TPS calibration services are available for temperature controls and recording instruments. These calibrations include NIST Calibration Certificates and ISO17025 Accreditations from A2LA for all makes of industrial furnaces, ovens, climatic test chambers, and walk-in chambers.
For more information about our equipment refurbishment services or any of the other aftermarket services offered by Thermal Product Solutions visit our website www.thermalproductsolutions.com, or contact us at [email protected]. Stay connected with what's going on by following us on Facebook and LinkedIn. Make sure to check back each month for a new blog post.