May 15, 2015
Gruenberg Sees Beyond Request from Optical Industry Customer
Gruenberg Sees Beyond Request from Optical Industry Customer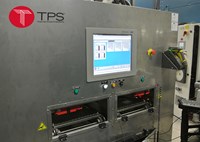 When a leading manufacturer of contact lenses and other optical products approached Thermal Product Solutions with a request to design an industrial oven with a conveyor system that would cure the company' products and a thermal process with electronic signatures that would meet Food and Drug Administration Title 21 Part 11 of the Code of Federal Regulations, TPS engineers envisioned a better cure.
The customer anticipated that the conveyor would have to be linear, with a substantially larger footprint. However, the Gruenberg engineering design team worked with the customer to develop a custom solution that involves a multi-lane conveyor system in which trays of product migrate their way through the curing process at 100 ⁰C, resulting in a much smaller footprint.
To ensure the quality and safety of the customer's product, the project required the industrial oven and every step of the curing process to be tamper proof and tracked, with data being logged and stored, to provide product traceability and employee accountability. The Gruenberg team designed a thermal process in which every tray of product entering the chamber is barcoded and scanned, along with the employee-identification barcode of each worker involved in the process. Every event is recorded and compared in real time with a detailed database of process requirements, and any variations trigger an alarm. Reports of events for each product lot ID are stored in an SQL database, and the multi-lane conveyor oven is network-attached and communicates in real time via a customized Allen Bradley controller to IP-based devices.
"Compliance with 21 C.F.R. is not an out-of-the box solution. Each customer, each application has its own unique set of needs," said David Strand, TPS president and chief executive officer. "Our engineers customized this product to meet the customer's needs – not just the oven itself but also the various processes involved, the support software, and all of the peripherals."
Gruenberg offers the foresight necessary to help customers choose the right thermal-processing solutions for their specific needs. They offer standard and custom industrial ovens in batch and continuous designs that accommodate temperatures up to 1200⁰F.
Thermal Product Solutions (TPS) designs and manufactures laboratory and industrial ovens, furnaces and environmental temperature cycling and stability test chambers. TPS product brands include Blue M, Gruenberg, Lindberg/MPH, Tenney and Wisconsin Oven. TPS is headquartered in New Columbia, Pennsylvania. Lindberg/MPH is located in Riverside, Michigan, and Wisconsin Oven is located in East Troy, Wisconsin. For more information, visit www.thermalproductsolutions.com.