December 16, 2014
Engineered to Handle Combustible Acetone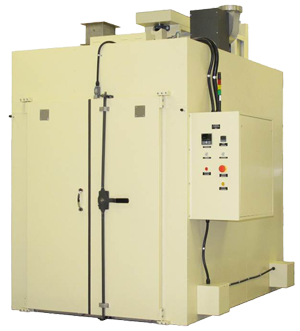 Thermal Product Solutions designed a custom Gruenberg truck-in oven to comply with the National Fire Protection Association Bulletin 86 (NFPA 86) for Class A solvents.
To prevent the combustible acetone from exploding or igniting, engineers equip the truck-in oven with an exhaust fan to evacuate the hazardous material from the test chamber. The exhaust rate is calculated based on a number of factors including the acetone's volatility, test temperature, and cycle time.
The exhaust rate may affect the heating efficiency of the oven; therefore, the power requirements are calculated to provide enough Kilowatts (KW) to keep the chamber operating at the required temperature and exhaust rate.
To ensure the safety of the operator, the equipment, and the test material, the truck-in oven is equipped with several safety features. In the event of a primary controller failure, the oven is equipped with a high limit thermostat that shuts off the heat. If the door opens during operation, a safety switch cuts power to the heater and blower.
A purge timer completes a minimum of four complete changes of the oven's air volume before energizing the oven's heater. This purge helps clear the oven chamber of any flammable gases.