July 07, 2015
TPS Designs Custom Industrial Oven to Cure Dry Dosage Pharmaceuticals
Granulation dryer for dry-dosage pharmaceuticals
Designed for a leading pharmaceutical manufacturer, this Gruenberg Custom Industrial Truck-In Oven serves as a granulation dryer for dry-dosage pharmaceuticals.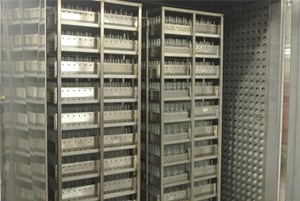 TPS, a global manufacturer of thermal-processing equipment, has designed a custom industrial oven that serves as a granulation dryer for a leading pharmaceutical manufacturer for use in curing a solution that becomes a dry-dosage drug. The high-capacity oven is capable of handling eight rolling trucks filled with trays of product solution simultaneously and accommodates a total batch load of 4.72 tons.
The oven's 21,300-cubic-feet-per-minute, horizontal-airflow system provides uniform heat distribution of ±3 °C throughout the chamber at a test temperature of 100 °C. A refrigeration system with non CFC refrigerant provides efficient process cooling. Two, 300-cubic-feet-per-minute powered exhausters provide air exchange to ensure correct drying of the product and vapor removal.
Made of heavy-duty steel with 4"thick Fiberex insulation, the oven's continuously welded, stainless steel liner and 3/16" thick stainless steel floor provide supreme product protection.
Powered by a propane gas burner system, the granulation dryer includes safety features such as an independent Yokogawa UT 150L high-limit thermostat; solid-state, electronic flame-safeguard protection; high- and low-gas pressure switches; and audible alarms to indicate a temperature deviation, high-limit event, or fault with the oven's burner system. Following a system shut down, a purge timer requires four complete changes of air within the oven's work chamber before permitting the heat system to restart.
A Yokagawa UP55A programmable controller accommodates eight process events and 16 time events, provides proportional integral derivative control with an accuracy of ± 0.1 percent, and offers 30 available program patterns for a total of 300 linkable segments. A Honeywell DR4300GP single pen recorder and Omega RD8250 paperless temperature recorder enable charting of process events, and an Allen Bradley MicroLogix programmable logic controller provides electronic function control.
The pharmaceutical manufacturer purchased two of the 77" wide, by 84" high by 173" deep custom Gruenberg ovens, which feature modular construction in six sections to facilitate easy transport and set up.
Thermal Product Solutions designs and manufactures industrial ovens, furnaces, and environmental temperature cycling and stability test chambers. Product brands include Blue M, Gruenberg, Lindberg/MPH, Tenney, and Wisconsin Oven. TPS is headquartered in New Columbia, Pennsylvania. Lindberg/MPH is located in Riverside, Michigan, and Wisconsin Oven is located in East Troy, Wisconsin. For more information, visit http://www.thermalproductsolutions.com.