December 16, 2014
Fabric Testing? Yes, we can help with that.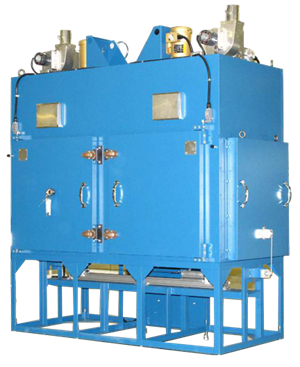 Thermal Product Solutions recently designed a double-chambered Gruenberg Industrial Oven for a leading technology-driven organization with a focus on innovation—and fluoropolymers. Known for its high performance fabrics, this customer had unique design challenges that required the kind of solutions a Gruenberg custom product delivers.
This specially designed oven features two side by side chambers in which a pneumatically operated product rolling rack is conveyed between for the heating and cooling processes. The heating chamber is on the left side and the cooling chamber is on the right side. Semi-pierced duct walls are installed on both ends of the rolling rack permitting horizontal airflow through the rack workspace when in either chamber. False walls are installed on the front and rear of the rolling rack to close off the area between each work chamber when necessary.
Access doors are installed at the front of the oven to load product. Removable bolt-on end panels are installed on the ends of the unit to provide the capability of positioning the rolling rack on the guide rail system.