December 16, 2014
Gruenberg Industrial Cabinet Oven Offers NFPA 86 Class A Designation and Class I & II, Division I, Groups D, E, F & G Safety Ratings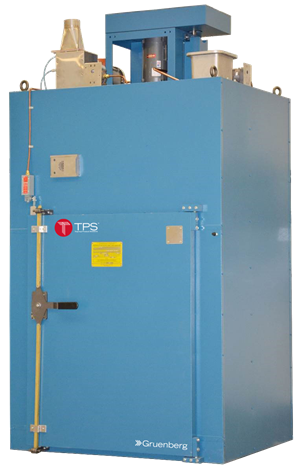 A munitions manufacturer serving the United States military approached us with a request to construct an industrial cabinet oven that would provide NFPA 86 Class A fire and explosion protection as well as offer Class I & II, Division I, Groups D, E, F, and G ratings' statuses.
This 36-cubic-ft. capacity oven includes a solvent-venting system with an intrinsically safe, interior design as well as many other safety features, including a forced-air exhaust system, ambient-air intake port, pressure-relief panel, exhaust blower, explosion-proof junction box, and safety cage. The oven's electric heating system, which offers an operating temperature of 60⁰ C and a maximum temperature of 100⁰ C, and high-volume, horizontal-type air circulation system condition the product. Semi-pierced, duct-wall construction permits fine-tuning of airflow through the workspace to achieve a high level of temperature uniformity during factory set up.
A Yokogawa UT150 temperature controller provides precise temperature control, and a Yokogawa UT 150L limit controller delivers over-temperature protection. This unit also is equipped with a remote-controlled power cabinet and start-of-day and process timers.