December 16, 2014
Out of Autoclave Process Cures Aerospace Composite Material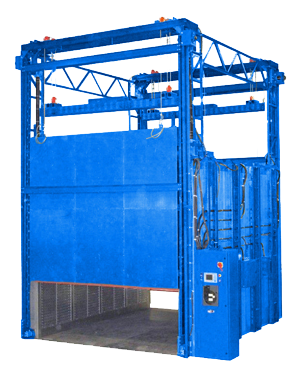 A well-known company in the aerospace industry contacted Thermal Product Solutions with the need for a more economical, high-performance industrial oven to cure the aerospace composite materials they use to construct large components. Out of autoclave technologies are ideal for curing strong composite materials such as carbon fiber and epoxy resins with little to no void content. Our current capabilities have poised us to readily create these custom out of autoclave machines to meet the growing demand.
This particular oven has unique size requirements and a vertical, counterweighted, pneumatically operated lift door on both sides for easy loading and unloading. An electric heating system reaches temperatures of up to 350°F with high volume, vertical-up controlled airflow. The application's sophisticated curing process requires maximum temperature control, which we provide through a state-of-the-art 7" Allen Bradley Color Touchscreen controller. This particular oven can maintain an overall uniformity of ± 5° F. The oven also features Ethernet connectivity plus RS-232 and USB capabilities. Extensive safety features, such as a Yokogawa overtemperature protection system, were also essential for this custom product.
Thermal Product Solutions can create custom out of autoclave ovens to cure many types of advanced materials, including:
Carbon fiber
Ceramics
Kevlar®
Nomex®
Thermoset
Thermoplastic resins
Epoxies
Aramids
Glass fibers
Nano materials
Although the popularity of out of autoclave processes have recently exploded in the aerospace market, these ovens are also more economical and reliable for curing parts in the sports and recreation market, marine industry, automotive industry, and wind/energy market.