December 16, 2014
Product Panels Glide Through a ULPA Filtered Environment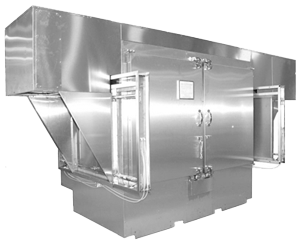 Utilizing ULPA filtration in the air intake, circulation, and exhaust systems, this industrial conveyor oven was specially designed and built to NFPA Class A safety requirements as well as to Clean Room Class 100 specifications.
An overhead type conveyor consisting of two stainless steel roller chains rides in Teflon guides through the oven workspace. Product carriers with hooks to hang the customer's product panels are attached evenly along the length of the chain. The panels hang down from the carriers and travel through a conditioned workspace with a vertical down type airflow. The conveyor is indexed using a conveyor gear motor that is speed controlled with a variable frequency drive. Chain return is through a track located on top of the oven and is enclosed in a stainless steel shroud.
Pneumatically controlled entry and exit doors are installed at either end of the conveyor with product travel from left to right. Entry and exit shrouds are installed to reduce the possibility of an operator's hand being trapped by the entry or exit doors. Access doors are installed on the front of the unit for cleaning and maintenance.
An electric heating system is used for conditioning along with a high volume vertical down type airflow system. Precise temperature control with complete process control is achieved using a Mitsubishi GT1265 color touchscreen HMI with a Mitsubishi FX Compact Programmable Logic Controller. Overtemperature protection is provided using a Yokogawa UT150L Limit Controller.