December 16, 2014
Solvent Vapors Safely Removed and Contained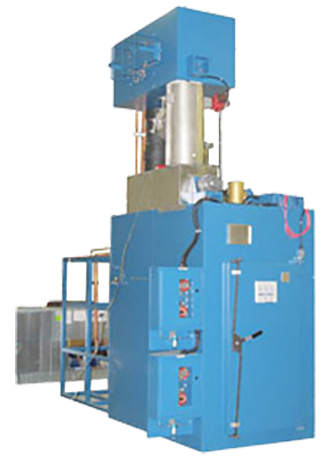 Thermal Product Solutions recently engineered a NFPA 86 "Class A" Gruenberg custom truck-in oven to handle solvent vapors safely and efficiently by driving them from the product during the process cycle and condensing them in a specially designed top mounted solvent condensing system.
The oven features a Fluid Heating System with a horizontal type airflow system to condition the product for the removal of solvent. Heat transfer fluid is heated in a remote Chromolox Fluid Heat Transfer System and pumped to a fluid heating coil in the oven conditioning plenum. This system employs its own fluid temperature control system and fluid pump.
A Solvent Condensing System mounted overtop the oven is employed to condense solvent vapors in the oven exhaust airflow, and to return this air to the oven conditioning system. This is achieved utilizing a refrigerated evaporator cooling coil installed in the solvent condensing housing. A remote Refrigeration Condensing Unit is used to supply refrigerant to the cooling coil.
Condensed solvent is safely drained from the solvent condensing system to a Solvent Recovery System, which consists of a 55 gallon drum (holding tank) and a fluid pump. The fluid pump is mounted on top of the drum and is used to pump the solvent out to the customer's specified location.
An exhaust blower is used to generate airflow for the Solvent Condensing System. The exhaust bypass system can be activated to exhaust process air to ambient air using motorized dampers in the exhaust and in the intake ducts.
An MSA Gas Monitor System is installed to monitor chamber air LEL levels to prevent them from reaching explosive levels. A redundant gas monitor system is included. Intrinsically safe equipment and explosion relief features are incorporated throughout the design.
Precise temperature control with complete process control is achieved using an Allen-Bradley PanelView Plus 700 CE Operator Interface Terminal with an Allen-Bradley MicroLogix 1100 Programmable Logic Controller. Overtemperature protection is provided using a Yokogawa UT150L Limit Controller.