December 11, 2014
TPS Provides the "Cure" for Manufacturing Challenge
When an automotive original equipment manufacturer faced a production challenge, the company turned to Thermal Product Solutions (TPS) for the "cure." TPS's solution was production of a Gruenberg Custom Conveyor oven specifically designed for curing an epoxy at a key step in the customer's manufacturing process of a power steering motor assembly.
The Gruenberg oven provides quick drying of the epoxy and is equipped to handle processes involving solvents and combustible materials. The oven has numerous safety measures in place to prepare for the possibility of explosion or fire. It also features two side-by-side chambers with the heat chamber on the left and the cooling chamber on the right. Maximum temperature in the heating chamber is 232° C with a normal operating temperature of between 150° C and 200° C.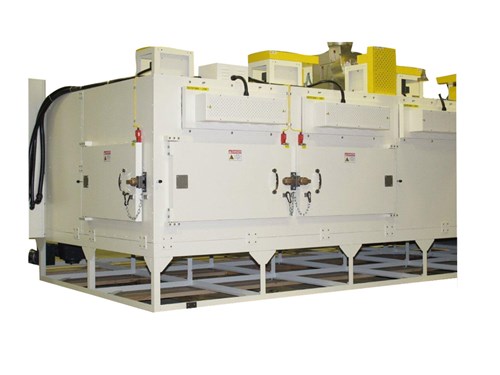 The production rate in the heat chamber is 180 parts per hour with a new part introduced every 20 seconds. The conveyor chain motion does not start until the oven has reached the operating temperature set-point as indicated by a light on the operator panel. When the target temperature has been achieved, the conveyor chain can be manually turned on. If the conveyor switch is turned on prior to the oven being ready, the conveyor will not be set in motion and an alarm will sound.
A high-volume, forced air exhaust package vents solvent that is present during the heating process. It vents a maximum of 150 milliliters of solvent per minute at a maximum temperature of 200° C. Another important safety feature is the presence of non-sparking air movers. The recirculation, cooling, and exhaust blowers are all designed to avoid the possibility of igniting any flammable solvent.
For additional protection, large "panic" buttons are located at both the load and unload stations. Operation of either of these buttons stops the conveyor instantly.
Through the Gruenberg brand, Thermal Product Solutions offers custom industrial ovens to meet a wide range of thermal processing requirements. TPS's Gruenberg products include sterilizers, continuous process explosion-proof dryers, isolators and barrier systems, and thermal process systems for pharmaceutical, biotech, medical device and diagnostic products.