Our Industrial Oven Refurbishment Process
TPS provides many services to equipment before it is offered for sale.
Mouseover buttons for more information.
*if equipped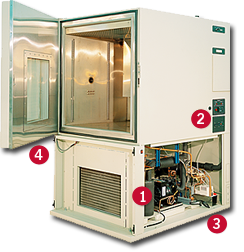 1 - Refrigeration System
2 - Electrical System
3 - Humidity System*
4 - General
Refrigeration System
All components in the system are checked for functionality and adherence to current specifications.
Units with CFC refrigerant are converted, the oil, accumulator, and oil separators, capillary tubes, and filter/driers are replaced with OEM equipment.
The refrigeration system is charged with dry nitrogen and pressure tested to ensure a leak-free system.
Evacuation to >5 microns ensures that the system is contaminate free and ready for new refrigerant.
Charge the system with new non-CFC refrigerant.
Complete testing ensures that the system is working properly and meets current specifications.
Electrical System
Older control systems are updated to current supported controllers.
All wiring, relays and terminal blocks are thoroughly inspected for any signs of deterioration and replaced as warranted.
Heater racks, motors, and other electrical components are inspected for wear and amperage draw to discover any potential problems, and replaced as warranted.
Humidity System
Humidifiers rebuilt with new heaters, float, inlet valve, and thermostat.
Upgraded back-plate installed as applicable
Humidity sensor upgraded to Vaisala capacitive type sensor. Wet bulb/dry-bulb sensors are not used.
General
Windows inspected, replaced if cloudy or leaking.
Door gaskets inspected, replaced as necessary.
Refurbished chambers are repainted/re-labeled.
Final cleanup after paint.
New O/M manual
Electrical schematics
Refrigeration schematics