« Back to List Page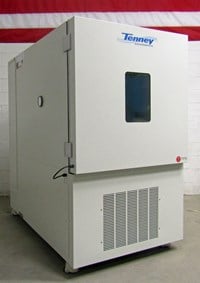 Temperature Range: -68°C to 180°C
ONE IN STOCK!

Product Page
TC30RC2.0-A-F4T-C Tenney "TCseries" Temperature & Humidity Test Chamber Serial#: 139370
Rental Returned Unit Back In Stock! Can ship in 2-3 Days!
The TC Series of environmental cycling reach-in test chambers include both temperature-only chambers and temperature / humidity chambers. The Tenney TC Series Cycling Test Chambers offer design features for optimal performance such as a high volume horizontal-down air circulation system with an electric heating system and a mechanical refrigeration system. If the humidity option is selected, a vapor injection type humidification system is used to condition the product. A wide range of options can be added to enhance the equipment. Since 1932, Tenney engineering continues to incorporate the latest technologies in heating, cooling, and humidification to meet the most stringent demands in the industry.
Benefits
Design features for optimal performance such as high volume horizontal down air circulation
Structural reinforcement is used at all critical points
Through wall ports are continuously welded
Electric heating system and mechanical refrigeration system
Wide range of options available
Features
Casters (2 locking)
Profiling Control System
Window in Door
Chamber light
Pricing Information
List Price New:

$30,059.00

Purchase This Unit For:

$26,900.00

Rent This Unit For:

$1,950.00 / month
Specifications
Temperature Range: -68°C to 180°C
Temperature Fluctuation: +/- 1.0 Deg C measured at control sensor
Humidity Fluctuation: +/- 5% RH after stabilization
Humidity Range: 20% to 95%, RH over the temperature range of 20°C to
85°C, limited by a 5°C dew point
Interior Dimensions W X D X H (inches): 36 x 40 x 36
Exterior Dimensions W X D X H (inches): 55 x 72 x 77
Crating Dimensions W X D X H (inches): 61 x 80 x 83
Electrical Power: 230V/240V 1 Phase 60 Hz
Amp Draw: 45
Amp Fuse: 60
Weight: 1896.0
FG# R739590
Options
Included Options
Two (2) three inch diameter access ports with plugs (1 on each side, centered in the work space). Both ports and plugs are silicone.
10" x 15.5" Viewing Window
Chamber Light
Tenney's New Electronic Humidifier Limit
Data Logging & Chart Trending
Available Options
CO2 or LN2 Boost Cooling
Dry Air Purge
Stainless Steel Shelves
Independent OTP