« Back to List Page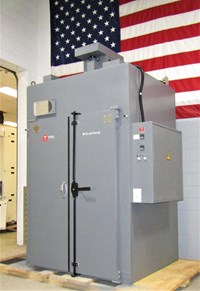 Temperature: 40°F Above Ambient to +450°F
Can ship in 5-7 Days

Gruenberg C45H960 Cabinet Oven Serial#: 33966
Refurbished Gruenberg 4' x 4' x 6' Oven. Available for purchase or rental.
Benefits
Engineered to provide a wide range of high temperature conditions in modular configurations, with highly efficient airflow management for maximum temperature uniformity.
Electric Incoloy-sheathed tubular heaters, and high volume air circulation system in a horizontal airflow design.
Horizontal circulation system with 4800CFM blower.
Features
Electric heat type
Horizontal air circulation
Max temperature is 450°F
Aluminized steel interior
Pricing Information
Purchase This Unit For:

$ 26,725.00

Rent This Unit For:

$ 3,800.00 / month
Specifications
Interior Dimensions: 48" wide x 48" deep x 72" height
Exterior Dimensions: 74" O.A.W. wide x 62" deep x 122" height.
Interior is Aluminized Steel
Exterior is CRS Painted Grey
Recirculation rated at 4800CFM
Voltage: 240V -3phase 60Hz, 100A Fuse
Heat Rating - 30kW
Full 90 Day Warranty
Options
Included
Single Setpoint Temperature Controller
Independent Limit controller
5 Perforated Aluminized Steel Trays
Available Options:
Temperature Recorder
Process Timer
Controller upgrade to Watlow F4T Profiling Control
Additional Trays