« Back to List Page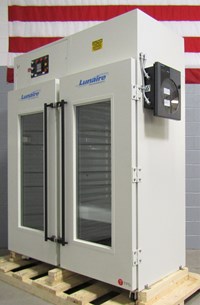 One In Stock
Can ship in a Week or less!

Lunaire CEO-958-4-B-SP Temperature & Humidity Steady State Chamber Serial#: 126357
In Stock! Available for Rent or Purchase. Can Ship in a week or less!
Lunaire's steady-state chambers are available in four convenient sizes. With work space sizes of 8, 16, 32, and 58-cubic-feet and a variety of temperature and humidity combinations, these chambers provide the flexibility for a wide range of uses.
Benefits
Meets a variety of needs with availability in four sizes and multiple temperature and humidity combinations
Temperature/humidity settings are housed conveniently in one controller and allow for hands-free operation
Designed for quick shipping, easy installation, and consistency over controls, utility requirements, and heat output
Air intake and exhaust tubes with manual dampers vent undesirable process moisture and vapors, protecting the product
Highly efficient horizontal airflow system provides maximum temperature uniformity in testing
Safety-minded low limit and high limit temperature shutdown circuits sound, limiting unwanted results
Features
Electric Incoloy-sheathed tubular heaters
Single stage reciprocating type compressor with Non-CFC refrigerant
Vapor-Flo Humidity Generator
Centrifugal type blower wheel with external mounted motor for air circulation
Door Gasket Trough and Chamber Drain
Non-ramping, manual mode
Direct printing to a serial printer
Direct connection to a PLC or computer workstation
High definition, LCD display with four digital input lines
Solid Shelves included
Pricing Information
List Price New:

$32,186.00

Purchase This Unit For:

21,947.00

Rent This Unit For:

$2,800.00 / month
Specifications
Temperature Range: 0

º

C to 99

º

C
Humidity Range: 20% to 96% RH in the temperature range of 20

º

C to 85

º

C, limited by a 5

º

C dew point and the accuracy of the humidity sensor. The test conditions are based on ambient conditions of 22

ºC and 50% RH

Interior Dimensions: 60" wide x 28" deep x 60" high
Exterior Dimensions: 70" wide x 32" deep x 91" high

Electrical Power: 208/230V, 1 Phase, 60HZ-

AMP Fuse: 70A

AMP Draw: 55

Heater: 5.0 Kw

Weight: 1845 pounds

FG# R717852
Options
Included
Deionized Water Cartridge System
Door Style: Door with Viewing Window
Special ETO Option : Install an RH deviation alarm set for +/- 5% RH.
Includes a red pilot light, buzzer, and alarm silence switch. This will alert
the operator if the RH set point deviates during process.
Recorders: Truline 2 Pen
8 Shelves
Water Supply: Water Regulator Assembly
Warranty: 1 Year labor & 1 Year parts.
Quantity (2) 2" ports with cover come standard with this unit and are
centered in the work space on the back wall of the chamber.

Optional
Additional shelves
Casters
Air Dryer for Low RH operation